Guided Trips
Why choose a guided trip?
Guided trips offer the opportunity for the angler to only have one thing to think about - catching fish. We take care of the rest - where to fish, matching the hatch, rowing the boat, packing lunch, loading and unloading the boat, gathering up the gear, etc. etc. It also allows you to see and experience fishing locations you might not normally fish or have access to.

You also have the opportunity to learn a few new things. We have years of experience on the rivers we guide. We've used just about every fly fishing method - swing, nymphing, skating, dead drifting to catch every species the rivers hold. We're happy to share everything we know.


What to Bring
We provide rods, reels, line, leader, tippets, flies, weight, lures, etc. on all of our trips. However, you are welcome to bring your own gear if you wish. We discourage the use of bait on our trips and do not provide such. Although bait is an effective means of catching salmon and steelhead, it is very harmful to the wild trout population in the rivers we fish. We will also rig you up with barbless hooks in most instances as well.

See our Trip Checklist for suggested personal items to bring along.


Why choose a licensed guide?
There are a lot of people out there that can take you on a trip down the river and probably get you into some fish. But by choosing a licensed guide, you're assured that they've met all the national, state and local requirements to gain that license, like having valid insurance coverage, being CPR/1st aid certified, and holding all required permits for a particular river. Things like that can put your mind at ease.

Here at Oregon Outdoor Excursions we take that one step further. We've taken the necessary steps to exceed the State requirements, giving you even more assurance.

Licensed guides are also generally more experienced about the rivers they guide on and they take their responsibility seriously. Keeping our Clients safe and making their trip enjoyable is what keeps us in business.


Our Drift Boat Trips
Our Full Day Trips give you the opportunity to cover a lot of water, up to 15 river miles! Lunch is provided and there are extended stops along the way to give the angler(s) the opportunity to work key locations. (7-9 hours)

Our Half Day Trips give you the option of choosing your start time and work in a trip according to your schedule. Early Morning, Afternoon and Early Evening start times are available. (4-5 hours)

Our Kid's Float Fee Trips are a great way to get the kids outdoors and introduce them to fishing. One adult must accompany kids aged 10-16. (Available in August and September only.) (3-4 hours)

All trips include a mix of fishing from the moving boat, fishing from the boat while anchored and wade fishing in key locations. Remember, it's your trip, so let us know how you'd like to fish and we'll do what we can to accommodate your wishes!
Important Information
Fishing Trips provided by Oregon Outdoor Excursions will require that the client is the holder of a valid Oregon Fishing License (and harvest card if fishing for Steelhead and Salmon). Licenses can be purchased online or from numerous outlets around the state. Visit the ODWF Website for more information.

Transportation to/from the launch point is the client's responsibility. Your guide will return you to your vehicle at the conclusion of your trip.

December 2018

Fish Species:
Steelhead
Rainbow Trout
Cutthroat Trout

Bug Species:
Various Caddis
Various Mayflies
Various Stoneflies

Fly Patterns
Metal Butt Skunk (Steelhead)
Bunny Matuka (Steelhead)
Skinny Thor (Steelhead)
Leggy Stone (Trout)
Possie Bugger (Trout)
Soft Hackle (Trout)
Lightening Bug (Trout)



Full Report

Proud Supporter of:



and:



Hydroplots:

North Santiam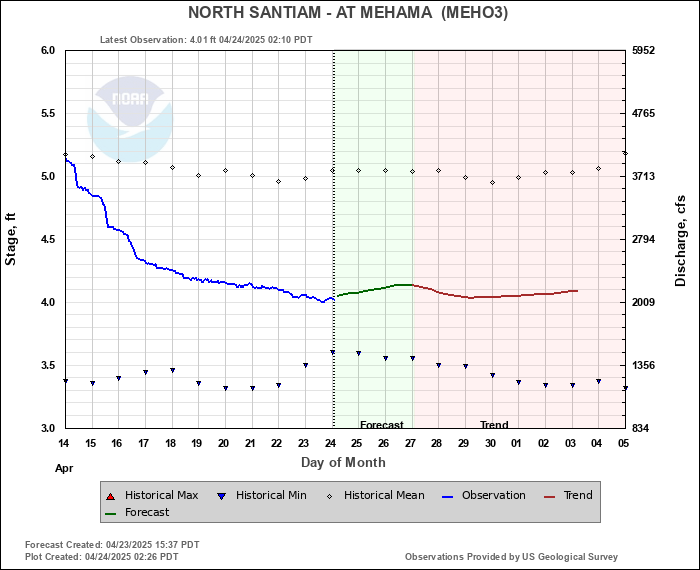 Nestucca Tides