North Santiam

The North Santiam is a very diverse and rich system with a variety of fishing options. Rainbow Trout, Cutthroat Trout (resident), Summer and Winter Steelhead and Spring Chinook Salmon are present in the system at various times of year which make the Santiam a year round fishery. The Tributaries of the Santiam above Detroit Reservoir contain Rainbows and fall runs of Kokanee Salmon (landlocked Sockeye).




The North Santiam River is a tributary of the Santiam River approximately 90 miles long. It drains an area of the Cascade Range on the eastern side of the Willamette Valley east of Salem.

It rises in the high Cascades in eastern Linn county, northwest of Three Fingered Jack in the Willamette National Forest. It flows north through the mountains past Marion Forks, receiving the drainage from the western slope of Mt. Jefferson. Near Mt. Jefferson it turns sharply west, descending through a canyon past Idanha, Detroit, and Gates. It emerges through the foothills into the Willamette Valley near Stayton, then flows briefly southwest through the valley where it joins the South Santiam River from the northeast to form the Santiam approximately 15 miles southwest of Stayton. The confluence is approximately 10 miles east of the confluence of the Santiam and the Willamette River.

The headwaters of North Santiam River originate at Marion Lake, which is a location of numerous wildlife species.




The North Santiam area is a great family destination. The upper river has many parks and campgrounds. Detroit Reservoir offers great boating (sail and powerboat) and water skiing. Hike into the high Cascade Lakes, gather huckleberrys and Chanterelle Mushrooms in the fall months, and of course, fishing opportunities are numerous.

A main tributary of the North Santiam is the Little North Santiam that enters the North Santiam near Mehama. The Little North Santiam has a good run of late summer as well as winter steelhead. As most of the steelhead in the Little North Santiam are wild/native fish, listed as threatened on the Endangered Species List, and whose runs are quickly declining, we do not guide nor recommend angling on this tributary.

The North Santiam fishes best at 4-5.5 feet of depth measured at the Mehama Gauge (2,500-5,700 cfs.)


Get the latest Fishing report here!
River Maps of the North Santiam
Google Earth Tours of the North Santiam River
Contact us today to book a trip on the North Santiam!

December 2018

Fish Species:
Steelhead
Rainbow Trout
Cutthroat Trout

Bug Species:
Various Caddis
Various Mayflies
Various Stoneflies

Fly Patterns
Metal Butt Skunk (Steelhead)
Bunny Matuka (Steelhead)
Skinny Thor (Steelhead)
Leggy Stone (Trout)
Possie Bugger (Trout)
Soft Hackle (Trout)
Lightening Bug (Trout)



Full Report

Proud Supporter of:



and:



Hydroplots:

North Santiam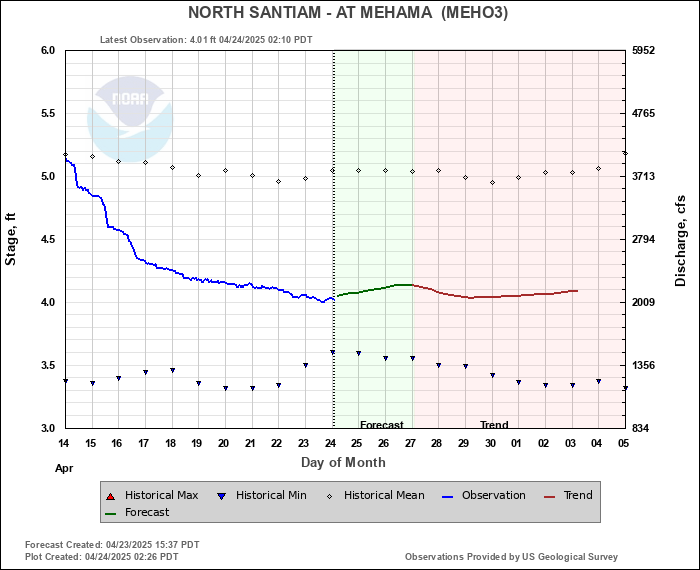 Nestucca Tides