Fish Species
Steelhead (Oncorhynchus mykiss)
Like salmon, steelhead are anadromous: they return to their original hatching ground to spawn. Unlike salmon, which die after spawning, steelhead rejuvenate after spawning so they may return to the oceans to start the anadromous cycle once again.

The steelhead smolts (immature or young fish) usually remain in the river for about a year before heading to sea, whereas salmon typically return to the seas as smolts. Different populations of steelheads migrate upriver at different times of the year.

"Summer-run steelhead" migrate between May and October, before their reproductive organs are fully mature. They mature in freshwater before spawning in the spring. Summer Steelhead (hatchery raised) in the North Santiam average 27-29", with the wild fish are a bit larger.

"Winter-run steelhead" mature fully in the ocean before migrating, between November and April, and spawn shortly after returning. Winter Steelhead in the North Santiam and the Siletz average 27-29", with some rare fish reaching 40" or more.

Steelhead fishing is open year round on the North Santiam River.

See our Fish Counts page for current and historical fish counts.


June 2018

Fish Species:
Spring Chinook Salmon
Steelhead
Rainbow Trout
Cutthroat Trout

Bug Species:
Various Caddis
Various Mayflies
Various Stoneflies

Fly Patterns
Metal Butt Skunk (Steelhead)
Bunny Matuka (Steelhead)
Comet (Salmon)
Clouser Minnow (Salmon)
Clark's Stonefly (Trout)
Leggy Stone (Trout)
Yak Caddis (Trout
Possie Bugger (Trout)
Soft Hackle (Trout)
Lightening Bug (Trout)



Full Report

Proud Supporter of:



and:



Hydroplots:

North Santiam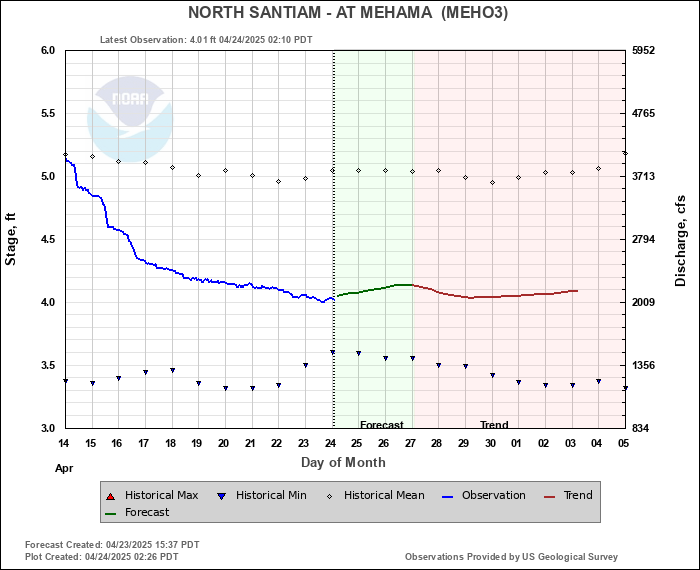 Nestucca Tides