Fish Species
Chinook Salmon (Oncorhynchus tshawytscha)

The Chinook salmon is a species of anadromous fish in the salmon family. It is a Pacific Ocean salmon and is variously known as the king salmon, tyee salmon, Columbia River salmon, black salmon, chub salmon, hook bill salmon, winter salmon, Spring Salmon, Quinnat Salmon and blackmouth.

Chinook Salmon are typically divided into "races" with "spring chinook", "summer chinook", and "fall chinook" being most common.

The North Santiam has a run of Spring Chinook (Spingers) that enter the river in late March - early April each year. Fish are typically in the low to mid 30's size, but can reach into the mid-40's and even larger. Fish that enter the river after August 15th are classified as Fall Chinook by the Oregon Dept. of Fish & Wildlife.

The Chinook will be in the system until September, when they begin spawning in the shallow gravel beds. Generally, the season for Chinook on the North Santiam closes on August 15th to limit harrassment of the fish that spawn in the river. Broodstock are collected at the Minto Facility just downstream from Big Cliff Dam. Juveniles are hatched and raised at the Marion Forks Hatchery upstream of Detroit Reservoir and distributed throughout the Willamette River system in the spring.

See our Fish Counts page for current and historical fish counts.


December 2018

Fish Species:
Steelhead
Rainbow Trout
Cutthroat Trout

Bug Species:
Various Caddis
Various Mayflies
Various Stoneflies

Fly Patterns
Metal Butt Skunk (Steelhead)
Bunny Matuka (Steelhead)
Skinny Thor (Steelhead)
Leggy Stone (Trout)
Possie Bugger (Trout)
Soft Hackle (Trout)
Lightening Bug (Trout)



Full Report

Proud Supporter of:



and:



Hydroplots:

North Santiam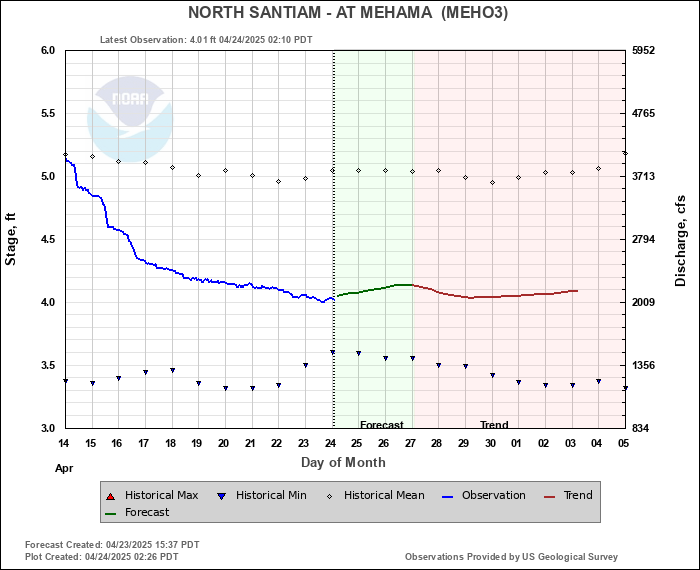 Nestucca Tides